GIVING BACK TO THE COMMUNITY
At Barry County Lumber we believe strongly in giving back to the community that has supported us for the last 65 years. In addition to providing financial donations, taking out ads in countless programs and providing materials free of charge or at a discount, our owners and staff give generously of their personal time to a large number of local charitable organizations.
We truly love this community and are in constant awe of how people pull together, even in the worst of economic times, to help others, to put on events, or try in some small way to make our world a better place for everyone.
Hastings Marching Band
It's all about the kids. We love supporting our local talented kids in all
the endeavors. The Hastings Marching Band Invitational brings in people
from all over the State and showcases our community and our amazing band
program. Go Saxons!
Caledonia FFA
We were pleased to be a part of the Caledonia FFA Raised Planters project for Porter Hills Retirement Community.
Pierce Cedar Creek Institute
We were happy to donate cabinet door pulls for the Unicorn SPiT Painting fundraiser supporting their mission of building a leading force and vibrant center for environmental education and research, resulting in awareness, appreciation, and preservation of the natural world.   We're glad it was successful and looks like a lot of fun!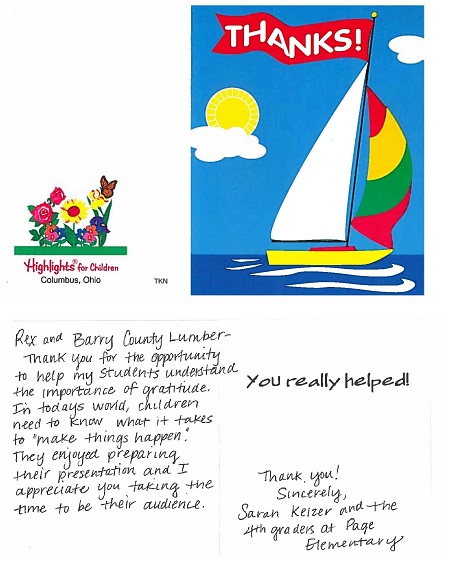 Mrs Keizer's 4th Grade TK Class
Mrs Keizer's class was in to make a presentation about their new Lego wall.  The kids were so cute!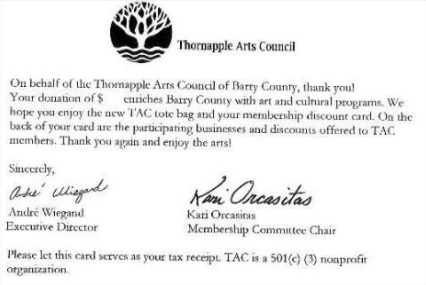 Thornapple Arts Council
We believe in a strong vibrant community, and that art, in all its forms, plays a central role in making Barry County a great place to live. We partner with the Thornapple Arts Council on a variety of projects throughout the year.
REQUEST FOR SUPPORT:
We receive hundreds of requests for support each year from a variety of worthy causes. Please download the Request For Support Form, fill it out and return it to us. Please try to get the completed form back to us at least two weeks before your deadline so we may have time to evaluate your need and our resources.